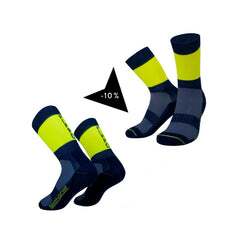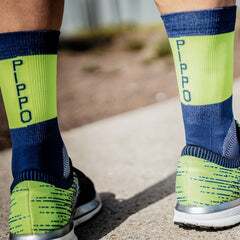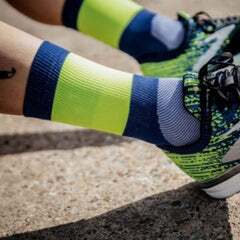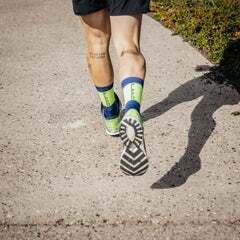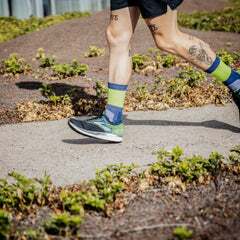 Triathlon sock bundle #notsomellowyellow
PIPPO Triathlonsocken sind dünne, atmungsaktive Rad- und Laufsocken. Sie werden mit nachhaltigen Produktionsmethoden in Schweden hergestellt.
Good to know
The ultraleichte Mikrofaser Dryarn® sorgt für eine leichte, atmungsaktive Rennradsocke, die deine Füße im Sommer kühl und im Winter warm hält und dabei 2,5x haltbarer ist als gewöhnliche Baumwolle.
Integrierte Kompressionseinsätze am Mittelfuß sorgen für einen festen, stabilen Sitz der Rennradsocken. Der breite, doppelt gelegte Bund verhindert, dass Schweiß in die Socken/Schuhe eindringt, und sorgt so für einen festen Halt without slipping
Zusätzliche Unterstützung an den Fersen und am Fußrücken verringert the risk of sprains or injuries.
Die Socken werden vor der washed before processing. Das bedeutet für dich: no shrinkage.
Der Lycra-Anteil sorgt für eine natürliche Kompression an Ferse und Wadenbein und ist gleichzeitig der Garant für die Formbeständigkeit der Socken. Nach Benutzung zieht sich der Materialmix immer wieder in seine Ausgangssituation zurück .
Designed in Amsterdam, Made in Sweden
Inspiration
Wir wollten eine auffallende Socke entwickeln die ausgelegt ist für Triathleten.
Material and Product Care
Material: 70% Dryarn®, 20% Polyamid, 10% Lycra
Bei 30° Grad waschen, nicht bügeln, nicht im Trockner trocknen. Du bist nicht zufrieden oder benötigst eine andere Größe? Beachte hierzu bitte unsere Konditionen für den Rückversand in den FAQs oder in den Versandbestimmungen.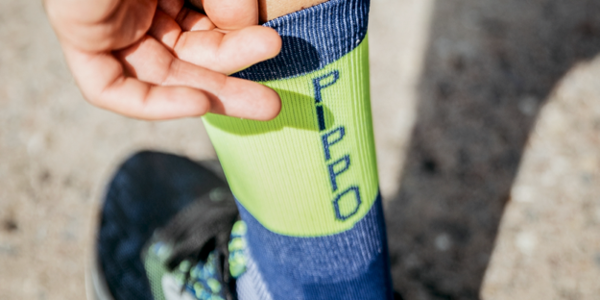 SOCK TECHNOLOGY
PIPPO - Triathlonsocken haben eine Kompression, die nicht einschnürt, aber dennoch den Effekt einer zweiten Haut hat. Darüber hinaus sind die Nähte auf der Außenseite genäht, um die Bildung von Blasen zu verhindern. Die Fersen und die Zehenbox sind mit verstärktem Material hergestellt, da dort die größte Belastung herrscht.
Young Brand
Unsere Vision ist es, gemeinsam Grenzen neu zu definieren – im Sport genauso wie im bewussten und verantwortungsvollen Handeln. Wir wollen es jeder und jedem möglich machen, hochwertige Rennradbekleidung zu tragen und so Limits neu zu definieren. Mit deiner Entscheidung uns zu unterstützen, unterstützt du ein junges Team, das weiß: Wir sind nicht da, wo wir sein wollen, aber wir arbeiten jeden Tag daran, es morgen noch besser zu machen als gestern.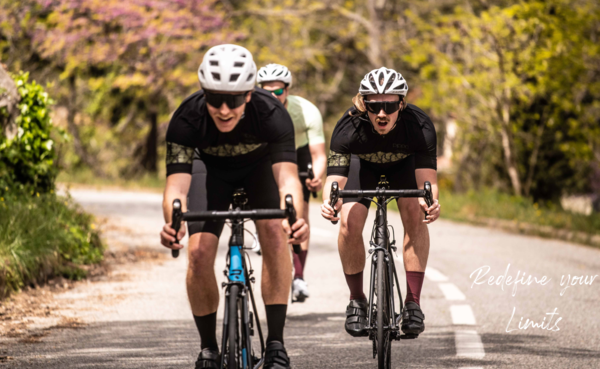 Pippo Vision
Wir haben eine einfache Mission: Menschen jeden Alters, jeder Größe und jedes sportlichen Könnens zu inspirieren, auf ein Rennrad zu steigen. Wir befähigen sie, ihre Freude am Rennradabenteuer zu entdecken und ihre Grenzen zu erweitern, ein Pedaltritt nach dem anderen. Mit dem Kauf eines unserer einzigartigen Rennradbekleidung unterstützen Sie diese Vision. Wir engagieren uns für einen nachhaltigen Ansatz, sei es durch den Verzicht auf Plastik während des gesamten Produktions- und Lieferprozesses oder durch die Suche nach Fabriken, die erneuerbare Energien nutzen.
100%
of our customers recommend this product.
Size (socks are prewashed, no shrinking)