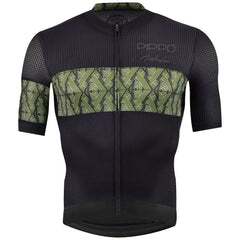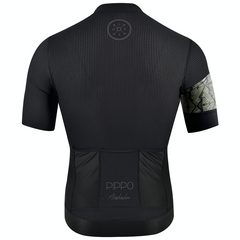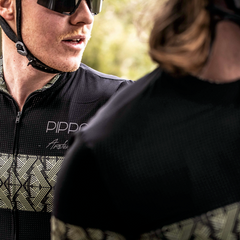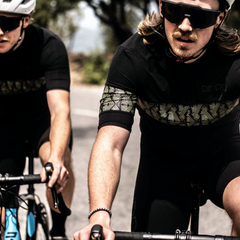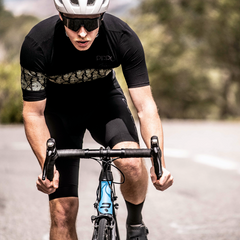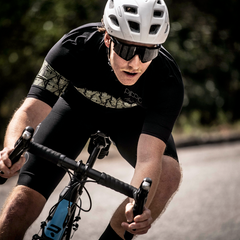 Cycling Jersey Men - Alp d' Huez
A lightweight cycling jersey designed for him to look stylish while providing comfort and breathability.
Good to Know
Das 4-fach gewebte, superleichte Air Venus-Gewebe sorgt für außergewöhnliche Atmungsaktivität und leitet Feuchtigkeit hervorragend von deiner Haut ab.
Starker Silikonbund an der Taille sorgt dafür, dass das Trikot immer an seinem Platz bleibt..
Das Trikot hat insgesamt 3 Gesäßtaschen.
Entworfen in Amsterdam, hergestellt in Italien.
Passt sich deinem Oberkörper perfekt an und schnürt nicht ein.
Bitte beachten bei deiner Auswahl der Größe Folgendes: Wir produzieren in italienischen Manufakturen, die auf die Herstellung von Bekleidung für professionelle Rennradfahrer spezialisiert sind. Auch unsere Schnitte orientieren sich an diesem Schnitt. Dies kann zu Spannungen im Gewebe führen, insbesondere an Brust und Bauch. Wir empfehlen daher bei allen Trikots eine Nummer größer zu nehmen.
Inspiration
Das Alpe d'Huez Trikot für Männer – ein zeitloses Design, hergestellt mit ausgewählten Materialien. Man sagt, wenn es ein Rennen gibt, das man in seinem Leben erlebt haben muss, dann ist es das Alpe d'Huez. Das war unsere Inspiration, das eine Trikot zu entwerfen, das alles hat: Qualität, Stil, Komfort und Leistung.
Material and Product Care
Bei 30° Grad waschen, nicht bügeln, nicht im Trockner trocknen. Du bist nicht zufrieden oder benötigst eine andere Größe? Beachte hierzu bitte unsere Konditionen für den Rückversand in den FAQs oder in den Versandbestimmungen.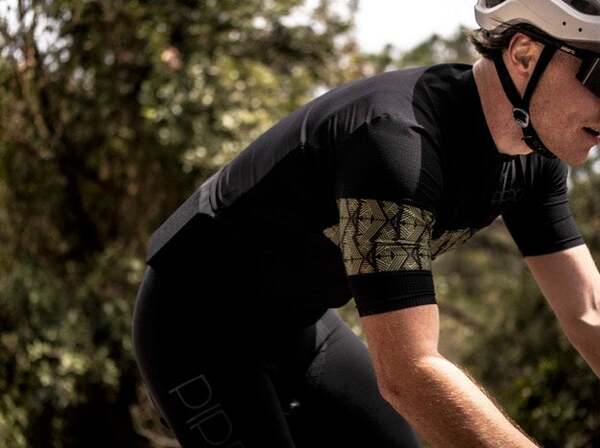 Features
Die Alpe d'Huez ist aus glatten, hochwertigen italienischen Stoffen gefertigt. Die schmale Passform sorgt für maximale Leistung, wenn du sie am meisten brauchst. Dieses leichte Trikot besteht aus 4-Wege-Stretchmaterial, dies reduziert die Muskelermüdung, ohne deine Muskeln einzuengen.


Customer Review
"Qualität ist selten, aber das hier hat eine Menge davon! Ich habe das Produkt direkt nach Erhalt probegetragen und fühlte mich sofort wie ein Profi. Die Passform ist eng um meine Taille und ich fühle mich so viel aerodynamischer als früher. Der Stoff ist weich, dehnbar und atmungsaktiv. Das Muster sieht toll aus und ich denke, ich werde nie wieder ein Einsteiger-Trikot kaufen. Das ist es wert." Rutger V. "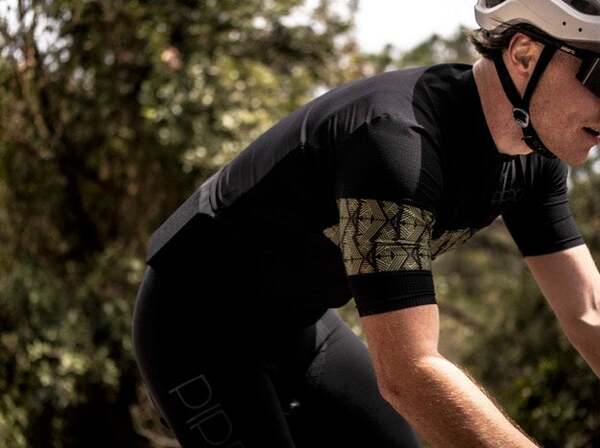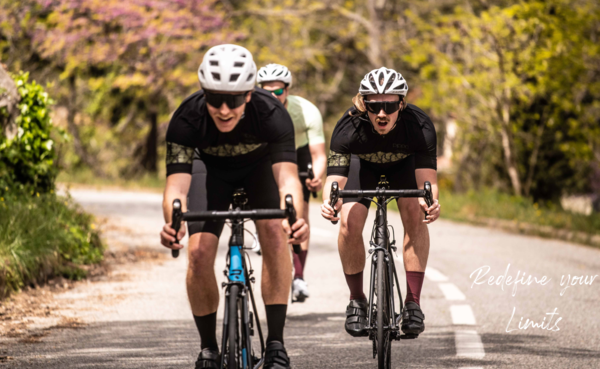 Young Brand
Unsere Vision ist es, gemeinsam Grenzen neu zu definieren – im Sport genauso wie im bewussten und verantwortungsvollen Handeln. Wir wollen es jeder und jedem möglich machen, hochwertige Rennradbekleidung zu tragen und so Limits neu zu definieren. Mit deiner Entscheidung uns zu unterstützen, unterstützt du ein junges Team, das weiß: Wir sind nicht da, wo wir sein wollen, aber wir arbeiten jeden Tag daran, es morgen noch besser zu machen als gestern.



Pippo Vision
Wir haben eine einfache Mission: Menschen jeden Alters, jeder Größe und jedes sportlichen Könnens zu inspirieren, auf ein Rennrad zu steigen. Wir befähigen sie, ihre Freude am Rennradabenteuer zu entdecken und ihre Grenzen zu erweitern, ein Pedaltritt nach dem anderen. Mit dem Kauf eines unserer einzigartigen Rennradbekleidung unterstützen Sie diese Vision. Wir engagieren uns für einen nachhaltigen Ansatz, sei es durch den Verzicht auf Plastik während des gesamten Produktions- und Lieferprozesses oder durch die Suche nach Fabriken, die erneuerbare Energien nutzen.
99 %
of our customers recommend this product.
Customer Reviews
07/03/2020
Rutger V.

Netherlands
Quality is rare, but this has it. A lot of it.
I test fitted the product directly when I received it and I felt like a pro immediately. The fit is snug around my waist, yes I need to loose some weight, but it makes me feel so much more aerodynamic than I used to be. The fabric is soft, stretchy and ventilating. The pattern looks great and I think I will never buy an entry level Jersey again. This is worth it.
The perfect fit for my Sunday-Ride
The composition and fitting of this jersey is just brilliant. I enjoyed the mesh components of the jersey most as they were highly helpful to stay perfectly ventilated during my session. The quality and the smart design justify my 5 star rating!
fit - look - feel
the "feel" of this performance jersey is super. the uptodate selected quality material mix of the collection, makes it so nice breathable and active. thanks for offering this sort of performance bike-wear for an affordable price. greetings from Germany !!!